US$2 billion entertainment complex under construction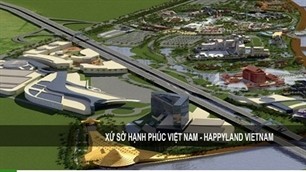 The Khang Thong Group organised a ground breaking ceremony for the Happyland Vietnam entertainment complex project in the Mekong Delta Long An province on February 14.
Addressing the ceremony, Deputy Prime Minister Nguyen Thien Nhan said the project will not only promote the region's socio-economic development and preserve the nation's cultural value but also promote Vietnam's image to the world.
He asked related ministries, agencies, and Khang Thong Group's partners to help the project begin operation in 2014 as scheduled.
The US$ 2 billion Happyland Vietnam project covers a total area of 338 ha with Happyland Park, hotels, shopping centres, exhibition centres, restaurants, and indoor and outdoor theatres.
Once put into operation, the project is expected to create 10,000 new jobs for local people and attract 14 million visitors every year.

News other :
• Over 180 trillion VND for housing, urban development
• Vietnam becomes attractive to foreign investors
• Quang Yen – New color urban development
• Bright prospects for real estate market
• Efforts Set Forth To Stabilise Land Prices In 2011
• Japanese investors praise Vietnam's renovation achievements
• Building an international standard boarding-school in Hanoi
• Vietnam's Realty Market – Attractive Destination For Investors