Cuba and Vietnam to Expand Economic Relations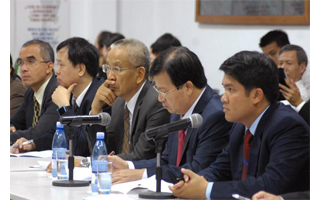 HAVANA, Cuba, Sept 17 (ACN) The Cuba-Vietnam Intergovernmental Cooperation Commission opens its 30th session, Monday, in Havana with the aim of further advancing bilateral economic and commercial relations.
Officials with the Cuban Foreign Trade and Investment Ministry and a Vietnamese delegation will assess working plans agreed to in previous sessions of the Cooperation Commission and will draw up new actions, according to organizers of the event, which winds up on Tuesday.
Both parties signed economic and scientific cooperation agreements in 2010 in key economic sectors, such as agriculture, trade, biotechnology, construction and the electronic industry.
On Monday, Cuban and Vietnamese entrepreneurs will hold a business meeting to explore new opportunities in the areas of tourism and construction.
Directives with the Cuban Chamber of Commerce and the Construction Ministry will exchange views with their Vietnamese counterparts during a gathering at Havana's Hotel Nacional.
The 5th Joint Business Forum, held in Havana in June 2011, revealed that Vietnam is Cuba's second commercial partner in Asia and Oceania, according to Opciones business magazine.
During that forum, the representatives of both countries signed a Plan of Action and a Cooperation Accord to renew a previous one penned in 1999.
Vietnam is Cuba's major provider of rice, while the Asian country continues to increase computer equipment exports to the island, which contributes to the education and cultural preparation of the population, said the vice-president of the Cuban Chamber of Commerce Odalys Seijo.
( baoxaydung.com.vn )


News other :
• Vung Tau toward a urban civilization model
• More Japanese firms eye investment in Vietnam
• Michael Jackson's father withdraws from Happyland
• US$2 billion entertainment complex under construction
• Over 180 trillion VND for housing, urban development
• Vietnam becomes attractive to foreign investors
• Quang Yen – New color urban development
• Bright prospects for real estate market
• Efforts Set Forth To Stabilise Land Prices In 2011
• Japanese investors praise Vietnam's renovation achievements